Just to give you an idea of how some of the ideas on Smart Renting can work in the real world, we've compiled our energy, water, food production and transport stats for 2019.
Some background information
2 adult occupants.
Two bedroom unit, 65m2 (interior), part of 3 ground level units. Estimated build date, late 1980s. Relatively draught free with single glaze windows.
Located in Melbourne (classified as a temperate oceanic climate).
Occupants spent 5 weeks away from home in 2019 on holiday.
One occupant worked one day a week from home and the house was occupied for 50% of all waking hours.
Costs and usage for 2019
Energy
Electricity use was 2kWh a day on average
3kWh produced on average by backup solar system, 1.7kWh supplied by 100% GreenPower mains electricity.
No gas usage.
Energy cost for the year was $600.
Internet and mobile costs for the year were $800
Power usage when home was vacant was 0.15kWh per day to power our chest fridge, an electric garage door and wired in smoke detectors.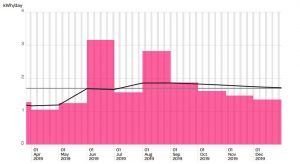 Main appliances
90% of lighting provided by solar powered lights.
Solar hot water provided by portable solar hot water system with a sealed shower cubicle.
Two induction hotplates and an occasionally used electric oven.
Reverse cycle heater, required for approximately 200 hours in winter for heating (approximately one third of all our electricity use)
No air conditioning used, only fan based cooling, portable evaporative cooler and exterior blinds. Total estimated cooling energy, under 2kWh or less than 1% of total energy use.
Chest freezer converted to run as a fridge.
Top loader washing machine with "eco" rinse mode, 70 litres per wash with a full load.
Small back up power solar system with 120Watt solar panel and a decommissioned 1.2kWh ex-generator starter battery for storage.
Two 200Wh batteries allow the solar power to be "carried" inside and they are used to power a laptop, solar lighting, mobile phones, an internet router, a stereo and a portable evaporative cooler.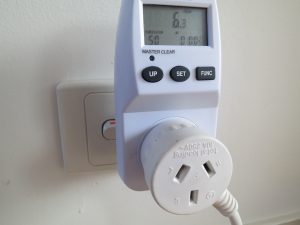 Water use
Water usage was 100 litres a day on average/50 litres per person including the garden.
Water bill was $130 for the year.
Food production
50kg of fruit, vegetables and herbs were harvested from our home garden.
10kg of fruit, vegetables and herbs were acquired through bartering or foraged from elsewhere.
Less than a few kg of food was wasted.
Approximately 500kg of compost was produced.
We estimate that the garden produced $1000 worth of produce.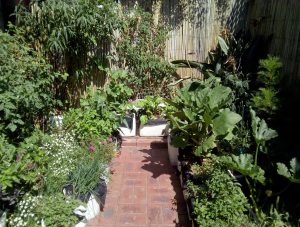 Local and regional transport
One quarter of all travel was on foot.
One quarter of all travel was on public transport.
Almost 40% of transport was by bicycle.
10% of transport was by car.
Transport costs were $4000 for the year.
How was life using 5% of the energy of an average Australian home, 17% of the average water consumption, living car free and growing some food?
Our house was comfortable all year round. We were warm in winter, cool in summer and had all the lighting and conveniences we needed.
Lower ambient lighting combined with task lighting enabled us to have better sleeping patterns.
Our back up solar system provided cooling during a hot weather blackout.
Our garden only required an hour a week of work on average.
Even though all of the above around the house required some extra effort, it only amounted to around 15 minutes a day (including the garden) which was well worth it for what we saved in home running costs.
The vast majority of travel was convenient enough providing exercise and time for reading on public transport. The extra time spent travelling was easily offset by the savings.
We have achieved similar results in other properties which goes to show that the ideas on Smart Renting can yield great energy, water and cost reductions across different rental properties.
Posts
HomePage