For the past two and a half years, we have relied on our portable solar hot water system for renters (ultra-efficient but doesn't fall into everyone's comfort zone)
Recently, we reconnected the gas to make way for the next tenants to move in which presented us with an opportunity to test a few water saving shower heads for renters who want a conventional shower.
Showerheads in Australia are now officially limited to 9 litres/min and Australian's have taken up them up in large numbers. Given that hot water is still a big energy user we wanted to see if a comfortable shower could be had with less hot water.
Changing a showerhead is a low cost way for renters to save water and energy with the bonus that you can take the showerhead with you and reinstall the old one when you leave.
The only disadvantage is that showers typically have either a "showerhead rose", pivot arm or handheld shower configuration meaning that what works in your current property may not work in the next one.
A well-known hardware store chain in Australia stocks 7.5 to 9 litre/min showerheads but a little online searching revealed two shower heads for our testing; a Methven Kiri Satinjet Graphite Low Flow 5 litre/min unit for $150 and an EZYFIX AIR 6 litre/min shower for $40.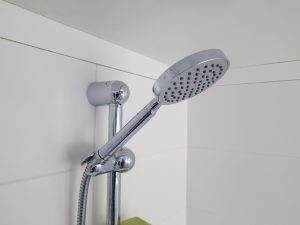 We didn't ask for or get any freebies; both showerheads were bought with our own money and the sellers had no idea that we are affiliated with this site. The same is true of the Flexispray showerhead mentioned further below.
Both prices include shipping, are for handheld showerheads and don't include the price of installing a shower rail for handheld showers though the Methven also comes in a showerhead rose and a pivot arm configuration for a higher price.
As far as our research goes, these are the lowest flow shower heads that you can get in Australia (outside of our 2.5 litre/min pump shower used as a solar hot water system for renters).
We tested the flowrate of both showerheads on flat out using a bucket and a stop watch and they used exactly the amount of water per minute as advertised.
Next, we tried a few showers with both showerheads. Long story short, the Methven is a pretty trick showerhead with it mist design and it wets the skin and warms the body. Still, it just didn't feel like a proper shower to us maybe because there's the lack of the sensation of water hitting your skin.
That said, there are plenty of positive user reviews online so we're not saying that it's a bad showerhead, it just didn't feel right to us so we sent it back.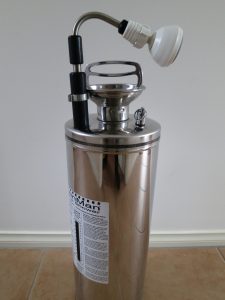 The EZYFIX on the other hand felt nicer. Even though it only flows at 6 litres/min on full, the spread of water is decent and there was plenty of water with the tap on at two thirds of its maximum pressure. We kept this one and it's a bonus that it's much cheaper too.
There's just two drawbacks with this showerhead; it is a little noisy though this didn't bother us and as you turn the pressure up, you need to add a bit more hot water to compensate for heat loss through the aeration process though not much.
Conclusion
If you switch from a 9 litre/min showerhead to a 6 litre/min showerhead, you'll go from using 45-50 litres per shower to 33-35 litres per shower for a five minute shower (including 3-5 litres for warm up water).
If you like the experience of a low flow misting showerhead like the Methven we tested, you can get as low as 28-30 litres per shower.
If you are on a tight budget, there's one of two things you can do:
You can buy a Flexispray Cayman head for $32 if you have a rose or pivot shower installation. They flow at 7.5 litres/min and give a decent shower.
You can buy an EZIFIX AIR shower head if you have handheld shower installation.
If you need to move, you haven't spent a lot and can keep the showerhead if you end up with the same type of shower again.
Hope this helps if you want to use much less hot water but don't want to go with a portable solar hot water for renters system. Don't forget to look at the Hot Water section for easy ways to get your hot water down to 50-75% less than the average Australian home.
---
Posts
HomePage