Some of the most interesting people around could be living next door or just a few doors down. Here's how to connect with neighbours and why it's good for both of you:
How to connect with the neighbours:
When you move in, go and introduce yourself to your immediate neighbours.
If you are already established in an area, a holiday season like Christmas or Easter can be a good icebreaker to take something homemade to the neighbours.
Some neighbours may be a little hesitant to connect so it's good to respect their desire to be left alone if you sense this.
More often than not, neighbours will appreciate that you have initiated contact and may be happy to invite you around for a cuppa.
If you have an elderly or disabled neighbour, you may be able to offer help if you can see that your neighbour might need it.
On the flipside, if you are elderly or disabled and need help with something, asking a neighbour can be a great way to connect. If you ask for help but offer a way out for the person to say no if they choose, they are more likely to help.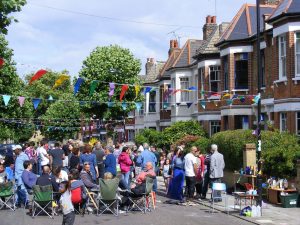 "Hackney Street Party" by sludgegulper is licensed under CC BY-SA 2.0
Why it's good to know the neighbours:
Knowing your neighbours means better security for everyone. You are both more likely to help in a crisis if you know each other.
Your property has better protection when neighbours know you. They can better spot when something unusual is happening (like a robbery in progress).
You can trade or barter which saves you both money. For example, you might borrow a tool in exchange for giving away some excess garden produce.
Good quality relationships = a good life. Getting to know your neighbours counts towards this.
---
HomePage