With just 2 square metres, a household can grow all their own herbs and greens whilst a growing space like a courtyard can enable you to grow a significant amount of vegetables. It's like having an organic fresh produce section of the local grocer or supermarket right on your doorstep.
Spaces you can use:
Indoor window sills up to a metre from a sunny window make good growing areas if you are tight on space and are particularly useful for growing seedlings.
Balconies, courtyards and any other outdoors areas are great especially to use for climbers like tomatoes to maximise growing space.
Most small spaces have the advantage of being close to your living quarters and are generally better protected from harsh summer sun and strong winds than bigger outdoor areas.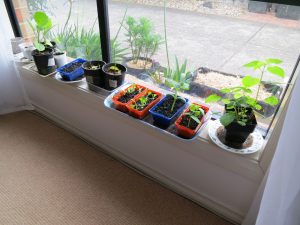 Tips for maximising small space gardens:
Grow only what you like to eat. Lettuce grows well in small spaces but only makes sense if you are going to use it.
Herbs and salad greens should be a priority given that they cost a lot to buy for their weight and yet grow easily at home where you can pick what you need.
If you have the space, go for veggies like zucchinis and tomatoes that have good yields for the space they take up and are easy to preserve if you have a surplus.
Greens and herbs like spring onions and chives can get by with a couple of hours of sun meaning that you should be able to grow them all year round in any Australian climate.
Mediterranean herbs (like thyme or rosemary), tomatoes and zucchinis will need a minimum of 5-6 hours a day of sun.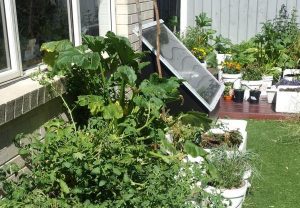 With the right sun requirements, expect to grow enough herbs and greens for a household of 2-4 people on 2 square metres.
With 4 square metres of herbs, salad greens and vegetables (10m2 including paths), we grew 15% of our total produce for the year in weight (saving $1000) so imagine what you could do with a well-managed 10 square metre courtyard garden.
Using portable wicking beds helps to cut your garden's watering needs down significantly, saving you a lot of time whilst you can take the garden with you if you need to move.
Using a portable composting system allows you to turn your green waste into a valuable feedstock for your plants.
Make some space to plant some beneficial plants like marigold, lavender and daisies that attract bees to pollinate your plants like zucchini.
Not having a big backyard is no impediment to the joys of growing your own food. Make the most of the space you've got and in return, you'll pick up valuable gardening skills and will have a much more beautiful indoor and outdoor living space to boot.
Food glorious food
HomePage