It's possible to make up some of your own lighting in a few afternoons for daily use and to provide decent back up lighting in the event of a grid failure. These lamps cost $250 in total and use electric components that can be easily replaced at little cost.
Bedroom lamp (below photo)

We have a small 3 Watt LED lamp that provides good ambient and reading light and recharges itself via a small solar panel on the window sill (or via a micro USB port if no solar is available).
It is made up from a small solar powered lamp (see bathroom lamp below) by adding a DC-DC converter to step up the voltage to 12 volts which powers a vintage style 12 volt LED bulb.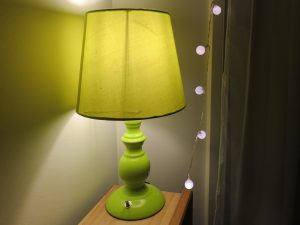 Desk/kitchen lamp
Built the same way as the kitchen lamp except it's based around an old desk lamp instead. Can be used anywhere where good reading light is needed and can run directly off the laptop via USB.
Because of the light shade design, this one is quite bright even on the low power setting, meaning that this can easily run for 10 hours on a single solar charge.

Bathroom lamp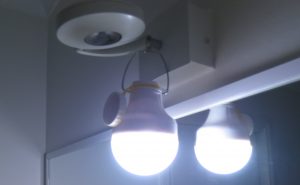 We have hung a solar lantern from the bathroom mirror.
If there's nowhere to hang a lamp from your bathroom mirror, you can make a simple clip from tin with a hole in one end and slide it behind the mirror to hold it in place. The light can hook into the hole.
These lamps cost just $20 and can charge off an included solar panel that can sit on a window sill. The solar panel provides enough power for our bathroom lighting needs, even in winter. These lamps can be found on Ebay.
We used these lamps to make our 12 volt/3 watt lamps in point 1 and 2 above. All lamps can be recharged to extend lighting time using a USB battery bank in a prolonged blackout.

Toilet lamp
We use a nightlight that sits on the toilet and automatically lights up when someone enters the room. If there is sufficient daylight, the light automatically refrains from switching on.
The light is positioned against the back wall which is white so the light gets thrown up behind the toilet.
The great thing about this light is that it is really soft so you don't get woken up too much if you use the toilet during the night.
The light cost $17 and runs on four AA rechargeable batteries that only need to be recharged every few months.
Outdoor/laundry lamp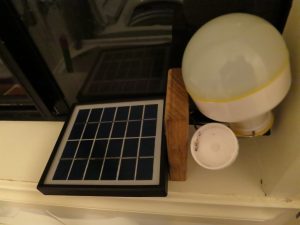 Same as the bathroom lamp but used for the laundry. It stays charged through its included solar panel.

Solar lantern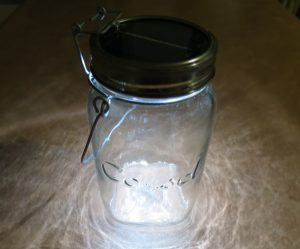 Found this in Germany. It's just a simple jar with a light and battery inside and a solar panel on top.
We leave it by the stairs/front door and it gets enough light to charge during the day.
It is used for lighting in the garden or emergency lighting.
Add a 5 Watt kitchen lamp, a 6 Watt lounge lamp and an outdoor sensor lamp used occasionally, our lighting energy requirements are a minimalistic 0.05kWh a day and yet we have plenty of light.
We have suggested a daily use of 0.1kWh to allow for sharehouses and very smart renters with kids.
Slash your energy bills
HomePage